Hundreds of members of the Israeli Ethiopian community protested against discrimination and police brutality on Sunday afternoon in Tel Aviv, calling out "Not black, not white, we're all human beings."
Protesters marched from the the Azrieli towers to Kiryat HaMemshala (government offices), shutting down traffic on the Ayalon Highway in both directions. They blocked the Kaplan-Begin junction, while police closed other main traffic arteries in central Tel Aviv.
Police warned that if protestors did not clear the major road, it intended to remove them by force. Clashes between police and protestors erupted near the Azrieli Center. Ayalon was reopened after three hours.
The protestors then proceeded to Rabin Square, where Tel Aviv's city hall is located. At least five police officers were wounded and were being treated inside city hall. Police were using pepper spray and stun grenades. At least three civilians were lightly wounded.
Law enforcement authorities deployed additional forces to the area, including 300 officers and mounted police.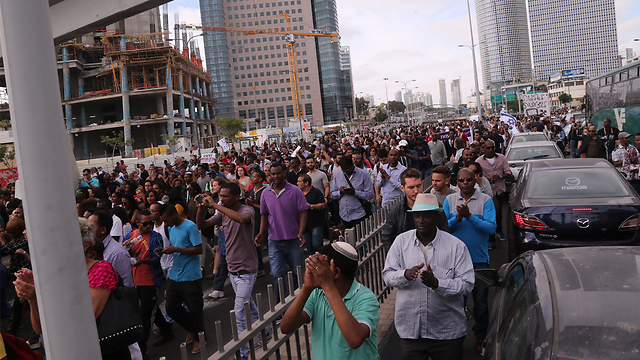 Some roads in central Tel Aviv were blocked, snarling traffic (Photo: Motti Kimchi)
The protesters, who were joined by social activists, were crossing their hands over their heads, to symbolize being handcuffed, and calling "a violent cop should be jailed."
Brig. Gen. Yoram Ohayon, deputy commander of the police's Tel Aviv district, accused social activists and organizations of "inciting members of the community to keep protesting after the police has already reached understandings with them."